CONVEYER SYSTEMS
---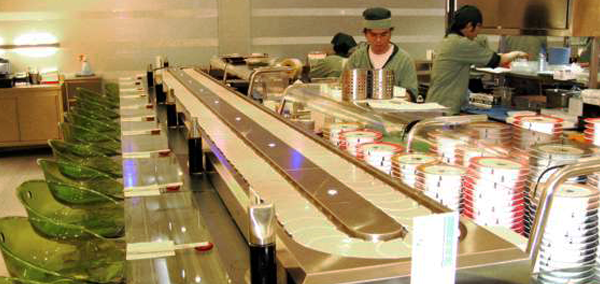 Kaiten Sushi is the Japanese name for Conveyor belt sushi this is an modern way of serving so that you directly the final product that you like to consume. The plates have different colors so that the price is related to the color of the plate. Because the conveyor is in connection with the kitchen or chef behind the system so you are sure of really fresh products.
The conveyor systems is an modular system so can be made according to the dimensions of the restaurant there we work with sections it is almost possible to create every shape there are various type of module so it can be placed on the counter or be integrated!
There are different type of restaurants that use the system such as Tapas and Dimsum! Being easily-installed and simply-maintained,the unique and your own selected SUSHI-serving system assures fast return of your investment.
So easy and enjoying for your customers and efficient for restaurant owners!.
Our profile systems: